We are really happy to release our brand new tuitional series across our YouTube and Facebook networks!
In this series we aim to address some classic problems and fundamentals we all experience on a day to day basis on our skis.
We cover a broad range of subjects including doing your boots up correctly, skiing in flat light, how to attack the steeps and many many more!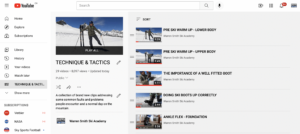 We will be continually adding new episodes throughout the Winter. If there are any specific subjects you would like to know more about, simply write to the team and let us know!