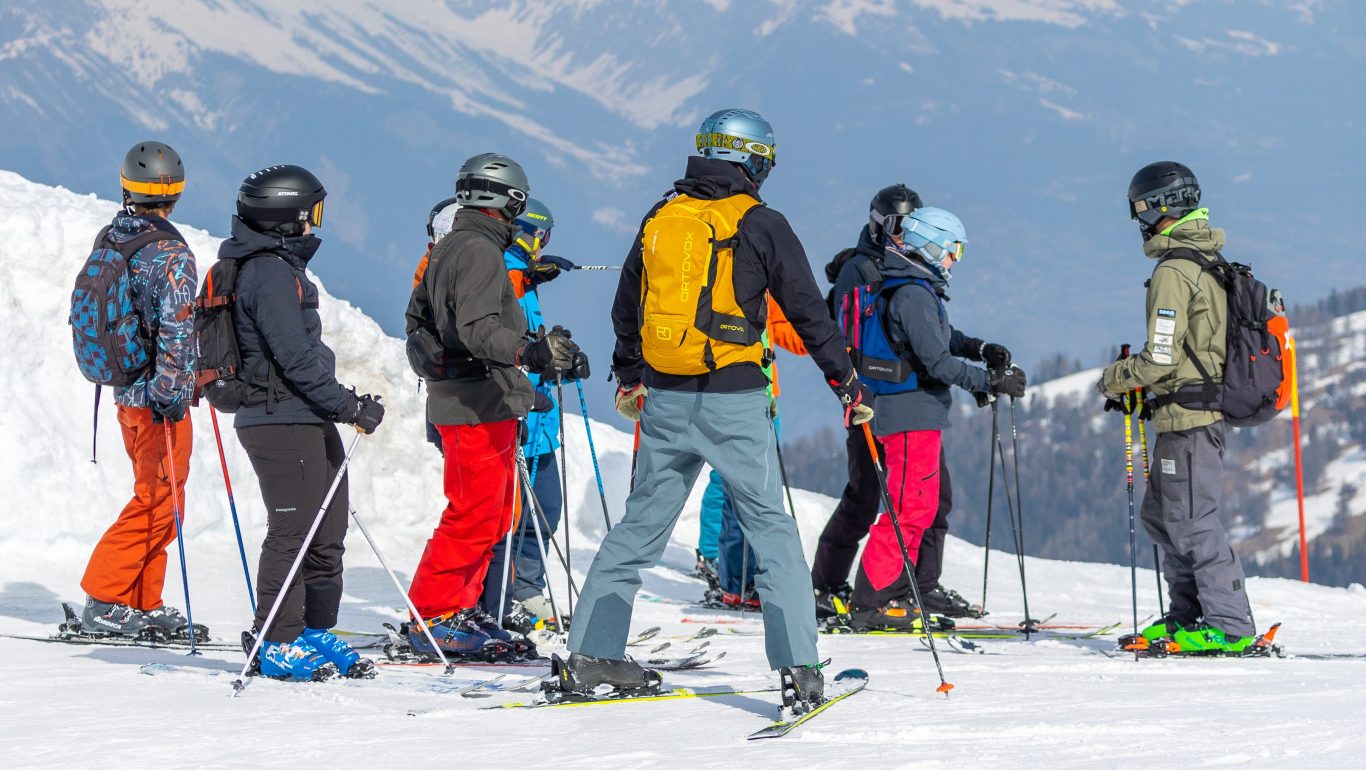 why choose us
Years of experience
We were the original ski instructor training organisation in Verbier, with our first instructor training course back in 2004. Years of experience has allowed us to perfect our program helping countless people achieve their goals. We don't just focus on passing exams we want our students to come out of our courses with great experiences and a greater understanding of skiing. We believe in creating instructors who can continue to improve themselves and those they teach.
Location & qualifications
Verbier has always been our home, the terrain is vast and world famous, the town is also famous for its own reasons, it's nearly impossible to get bored here. We offer great ski in/ski out accommodation for the 9 weeks, hosted by the equally famous Jo. Both the Level 1 and Level 2 IASI ski instructor exams are included in the course. On completion the level 2 qualification allows the holder to teach in an alpine environment across the globe.
Fantastic accommodation
We're incredibly lucky to be based at the Chalet Tai Pan in Verbier. A stunning, ski-in ski-out chalet split over two floors just off the Le Rouge piste. Situated in a quiet area of Verbier with easy access to town and the lift system. The amazing Jo is our instructor course host and owner of the Tai Pan. She regularly goes above and beyond to ensure everyone is extremely well looked after, we wouldn't want to go anywhere else!
A great program
Having been running the instructor courses since 2004 we've had time to tweak and perfect the course and program. Year on year we regularly have 100% pass rates. Students hugely develop, not just in their skiing and teaching, but grow as people too. Great friendships are made, lots of fun had and memories to last a lifetime. We aim to create an inclusive, familial atmosphere in our groups with each supportive of the other on this winter journey.
What's included
Included in cost
Half Board Accommodation at the fantastic Chalet Tai Pan just off the ski slope Le Rouge.
Option to book the course without accommodation. Contact us for price.
Shorter versions of the courses (e.g. Just the L1 or L2.) please contact us directly to discuss.
Season Lift pass for the Verbier 4 vallees ski area.
Course fees for the L1 & L2.
2 day first aid exam & qualification.
The best coaching ever!
Discounts on equipment at the start of your course.
On Snow
Personal Development in all aspects of your skiing from the core elements to freestyle.
Preparation for Level 1 and L2 Ski Instructor Course.
Level 1 Instructor Course – 6 Days.
Off piste awareness training.
Filming and analysis.
Teaching, group engagement and group management skills development.
Teaching practice and opportunities to shadow experienced ski teachers.
Level 2 Ski Instructor Course – 6 Days.
Training by top qualified coaches with bucket loads of experience.
Off Snow
Theory preparation for Level 1 and L2 Ski Instructor Courses.
Understanding and effective use of the Core Skier Development Stages.
Social events and integration to the resort.
Emergency First Aid Course – 2 Days.
Ski Servicing and Maintenance Training.
Biomechanics assessments, the importance in Ski Instruction.
Regular video analysis sessions.
Core and ski specific physical training.
Assistance in applying for jobs in the ski industry.
Good times.
Testimonials
Nate "Absolutely loved the course. It was some of the 9 best weeks of my life and I'll never forget it"
Orla "I had the best season and all thanks to the amazing instructors at Warren Smith. My skiing massively improved and I loved training. Thank you!"
James "Fantastic course. Had so much fun. Thankyou so much to you all. I am hoping to come back in the future to do the L3 course"
Sally "A truly spectacular 9 weeks – thank you all"

know before you go
required level
We take this on a case by case basis as it is nearly impossible to give a concrete answer as everyone is different. As a rough guide we would expect a potential trainee to be able to ski all pistes in parallel with hopefully, though by no means essential, a bit of experience in more challenging terrain. For a look at the required levels for the L1 & L2 exams check the IASI website for criteria videos. On our level system we would be looking for a level 3 standard or higher. If at all unsure please do not hesitate to get in touch.
Multiple options
We run 2 courses over the winter. Our early course starts in December and our mid season course starts in February, both run for the same 9 week duration. We do also run a course over the summer, click here for more information. The courses are both the same in their content regardless of start date. It's a personal preference. Due to Verbier's altitude the snow conditions are not affected, the Early course does run through the more wintery months but the spring in Verbier is for sure one of the best times to be here.
Why IASI?
We choose to partner and assess our courses through IASI for many reasons. Not least because being an organisation that is still recognised within Europe it allows EU passport holders to continue to be recognised to work in Europe. We have been working with IASI for many years, some of our Academy team are heavily involved with the organisation, as Educators and above. IASI is aligned with ISIA (easy to confuse, but 2 different organisations) which is the international association for ski instructing.
The resort
Verbier is famous for its vast, challenging yet relatively easily accessed off piste terrain. But don't be fooled we have some great piste skiing too. A bustling nightlife, situated high up on a south facing plateau, enjoying sunshine in to the evening and spectacular views make Verbier a really special town. As all big resorts it can get busy at peak weeks which is why we structure our training to avoid these periods. The vast area of the 4 Vallees makes it possible to get away from the crowds at all times.